Background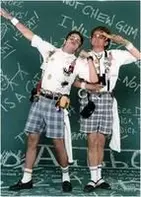 James began his work as a "speaker" when he developed a comedy duo called "The Morris Brothers" (
www.themorrisbrothers.net
). What started out as a joke turned into a career! For over 3 years, the brothers hosted "The Fox 33 Kids Club" which aired daily on KDAF Fox TV in Dallas, Texas. They wrote, produced and directed all on air spots. Since then, the wacky duo has been thrilling auidences from coast to coast, both young and not so young, with their unique approach to entertainment. These programs are mixed with comedy, skits and original music. In 2009, they received a "Parents Choice Award" for their CD "Bullybusters". They have been performing in schools for over 15 years and have reached over 2 million students in schools across the nation. When not performing in schools, Homer and Rupert have spent time entertaining audiences at Six Flags theme parks, The State Fair of Texas, The Mall of America in Minnesota, The Greek Amphitheatre in Hollywood and countless special events. Due to his current schedule, James currently does not perform many school programs as a "Morris Brother". Instead, he has other "nerds" who travel across the country spreading The Morris Brothers Motto, "It's not what you look like on the outside...It's the kind of person on the inside that matters....You're special...There's no one like you in the world".


Today


As mentioned above, James currently spends most of his time counseling and consulting as "himself". His background in entertainment (plus just natrually being a little on the "silly side") enables him to make a genunine connection with his audience. It doesn't matter what topic it is, he usually finds a way to spin it in a humourous way. His laid back, folksy, style puts audiences of all ages at ease where they are more likely to be engaged and receptive to whatever message he is delivering. Listed below are some of the topics he speaks on. If you're interested in another topic, just let him know. He's as flexible as Gumby!
School Presentations and Staff Development


Bullying Working with Angry and Defiant Children and Adolescents

The 4 Goals of Misbehavior

Motivation Through Effective Praise

Firm, Fair and Fun

Capable, Cared for and Connected



Students
Bullying

Why do I misbehave?

Perfectionism

Stress Management

Strategies in Geting Along with Adults


Parenting


Intensive All Day Workshops on Parenting and Bullying
Session I: Proactive Parenting
Why Do I Parent the Way I Do?

Why Do Children Misbehave?

Responsibilities vs. Freedom...Finding a Balance

Designing rules and consequences

Strategies for Coping with the Electronic Media

Motivating through Effective Praise

Resloving Power Struggles

Managing Schedules in a Hectic World


Session II: Bullying Basics
Societal Attitudes, Norms and Behaviors

Short and Long Term Effects of Bullying

Strategies for Helping Those Who Get Bullied

Helpng Your Child Be a "Bystander Superhero"

Coping with "Mean Girl" Bullying

Cyberbullying: What it is and How You Can Stop it!

Note: The cost of each session is $150 (for one or two parents/guardians), but if you sign up for both session you receive a $50 discount. If you're interested, he can provide you with a 1-2 hour presentation on any of the topics listed in Sessions I or II.


Marriage


Love and Repsect

RoutineBusters: A Relationship Tune Up!

Communication and Conflict Resolution

Prioritizing Your Marriage: God, The Two of You, Children, Work and Other

"You're Just Like Your Daddy" - Family of Origin Issues


Churches


Love and Repsect (Marriage presentation for couples)

Parenting

Living with Hope in a Hopeless World

Note: The School, Parenting, Marriage and Student presentations can be modified for a Church presentation as well